Master Plan
February 2023
The South Australian Jockey Club has selected national developer Villawood Properties and Australian superannuation giant Hostplus to help deliver a once-in-a generation $350 million vision for Morphettville Racecourse.
The joint venture partners will work with the SAJC to redevelop 7.5ha of rezoned land between the racetrack's home turn and Anzac Highway with high-quality housing and apartments, commercial, specialty retail and community spaces.
Key features of the $350 million racecourse masterplan include:
A new community plaza, linking Anzac Highway to Morphettville, which will be available for year-round events and create a grand entry to the racecourse;
Mixed use apartment buildings with more than 150 residences;
A supermarket, shops, hospitality outlets, a new SAJC-owned The Junction tavern and, SAJC offices; and
250 townhouses and low-rise apartments ranging in height from two to three storeys.
The apartment buildings, shops, and tavern will be part of a dynamic mixed-use precinct between the Glenelg tramline and Anzac Highway, with the townhouses and low-rise apartments to be located south of the tramline, next to the racecourse.
The milestone announcement follows an exhaustive tender process which received 46 registrations of interest. The SAJC board chose the Villawood and Hostplus joint venture from a shortlist of six candidates.
Villawood and Hostplus will transform underutilised trackside land into a vibrant, housing, and commercial precinct for the benefit of the economy, the wider community, and the sustainable future of racing in South Australia.
SAJC chairman Bob Holton said the appointment of Villawood and Hostplus as redevelopment partners marks one of the most exciting chapters in Morphettville's proud history.
"For nearly 150 years Morphettville has been an important social, sporting and economic hub for South Australia employing thousands and providing lasting memories for those who have walked through its gates," he said.
"This partnership, and the funds generated through the redevelopment, will help us build on Morphettville's proud legacy and provide the foundations for a thriving club for our current and future members.
"We look forward to working with Villawood and Hostplus to make Morphettville even greater."
SAJC CEO Grant Mayer said Villawood and Hostplus have a track record for success and investing in high-quality projects.
"We are excited to be working with Villawood and Hostplus to deliver a world-class, once-in-a generation vision for the State's premier racecourse," he said.
"These companies are leaders in their fields and share our goal for a modern, sustainable, and dynamic Morphettville.
"This long-anticipated redevelopment will enable us to invest back into Morphettville for the benefit of our valued members, the community, the racing industry and the State."
Villawood Properties recently expanded its presence into South Australia through a multi-billion-dollar portfolio of housing projects. The award-winning developer of 34 years is widely recognised as Australia's leader in terms of sustainability, innovation, and philanthropy.
Hostplus is one of Australia's largest super funds, who strengthened its ties to South Australia last year following the merger with Statewide Super. The opportunity for Hostplus to partner with Villawood and the SAJC was secured via its mandate with ISPT who also manages Hostplus' co-investment in the $2 billion mixed use redevelopment of Victoria's Moonee Valley Racecourse.
Villawood CEO Alan Miller said his company would bring decades of "experience, innovation and capability" together with a shared vision for a "vibrant, active and engaging Morphettville precinct".
"We believe the Morphettville site is an opportunity to take a long-term development approach, creating another truly unique Adelaide lifestyle destination," he said.
"We will create a premium lifestyle, events, and racing destination, celebrating its proud history and heritage, reimagined for today and tomorrow.
"This is very exciting for Adelaide and working with Hostplus means a great home-grown, locally-managed investment in our own heritage and our own future."
Hostplus CEO David Elia said: "This is an important project for Hostplus. Firstly, and most importantly, this is a fantastic long-term investment opportunity for our members. The project also demonstrates our ongoing commitment to investing in the South Australian economy and the creation of more jobs across a range of industry sectors in South Australia."
"Hostplus is proud to partner with Villawood on this exciting joint venture, and we look forward to the delivery of this legacy project for South Australians and the members of Hostplus."
The redevelopment is expected to support up to 700 construction jobs with work expected to start by mid-2024.
Note: The adjoining Magic Millions property, which is owned independently of the SAJC and had been included in a previous concept masterplan, is not part of the agreed masterplan development footprint.
About Villawood
Villawood is a national award-winning property developer and highly-recognised leader in its sector. It is consistently lauded for its creativity and innovation, its contribution to the industry and the community. It is well known for its community focus in all its endeavours and has received more than 20 industry awards across community engagement, master-planning, design, landscaping, environment and lifetime achievement. Villawood sets aside land in its releases for care workers such as nurses, police, paramedics, firefighters, teachers and personal carers. It also provides them a saving. Villawood donates more than $2.7 million a year to community groups, including the land for charity house/land auctions for the Royal Children's Hospital Good Friday Appeal in Melbourne and Brisbane's Mater Little Miracles. Villawood gives an equal block of bushland to national forest for every residential block it sells, and has developed Australia's most water and energy-sustainable community, Aquarevo, in Melbourne.
About Hostplus
Hostplus is one of the largest industry super funds in Australia with 1.6 million members, more than 280,000 contributing employers and more than $95 billion in funds under management. Hostplus continues to evolve and grow as the lifetime fund of choice for Australians and employers from a broad range of backgrounds and industries.
August 2021
The Concept Master Plan envisages redevelopment of up to 10 hectares of re-zoned land for medium-density residential, retail, hospitality and commercial use.
SAJC now invites proponents or consortia (Respondents) to submit an Expression of Interest (EOI) to partner with the club to deliver this redevelopment.
SAJC has a strong desire to work with a development partner for the life of the project; an organisation that will share the vision, manage the build and deliver on the sales and marketing.
May 2021
The State Government has removed the final hurdle in front of the SAJC's planned redevelopment of Morphettville Racecourse, paving the way for the club to realise the full potential of its land.
The club received Development Plan Amendment (DPA) approval from the State Government in May 2020, meaning that land owned by the SAJC between the racetrack and Anzac Highway was re-zoned as Urban Core Zone.
However, a further process was required to address an 'Open Space Proclamation' that had been in place since 1958 preventing development of the land.
Today (28 May 2021), Attorney-General and Minister for Planning and Local Government Vickie Chapman formally revoked the proclamation.
"The revocation of the proclamation will enable the South Australian Jockey Club to unlock the land and use it to its full advantage," Attorney General Chapman said.
"It will enable the club to realise its master plan, with returns from the project expected to be invested in improving facilities at the track.
"This is a fantastic project, which will create jobs, new housing and deliver economic benefits for the club.
"The Marshall Liberal Government will continue to back projects like this, which help organisations like the SAJC to thrive."
The revocation will now enable the SAJC to go to market to seek a development partner through a tender process.
The club's Concept Master Plan envisions a mix-used development incorporating residential, residential, commercial, retail and community spaces.
The first stage could see 150 apartments, a 120-room hotel, tavern, supermarket and speciality retail and hospitality with direct access to the tramline.
Stage two includes approximately 400 low rise apartments, terraces, and townhouses with the two stages linked by a new pedestrian plaza.
Chairman Bob Holton said the revocation of the proclamation was "a major milestone" for the club.
"The SAJC has had a long-term vision to unlock the value at our Morphettville site to enable us to invest back into South Australia's premier racing venue for the benefit of our members, the racing industry, our local community and the State," he said.
"The returns we generate from this project will be reinvested in improving facilities at Morphettville to underpin its future and enhance its position as a key part of South Australia's major event and tourism economy.
"We are grateful to the Attorney General and the Marshall Liberal Government for their support of this project and are now looking forward to starting the tender process."
December 2020
Following the Development Plan Amendment (DPA) being approved by the State government in May 2020, Cox Architects were engaged to provide a concept masterplan representative of how the land could be developed and could look in the future. These concepts were presented to Members in November 2019.
Important venue and events research and market analysis has been undertaken to assess supply demand for various offerings at our location and key stakeholder presentations have been held with several bodies including Marion and West Torrens Councils and the Minister for Racing. Feedback has been positive to date.
The next steps will include further stakeholder and industry engagement, market soundings and feasibility studies.
The recruitment process has commenced to appoint a full time Development Manager who will lead the next phase of the project.
The vision for this Master Plan is to realise the full potential of the underutilised land at Morphettville. Returns expected from this project will be invested in improving facilities for the enjoyment of thoroughbred horse racing patrons at Morphettville and to promote thoroughbred horse racing in South Australia.
May 2020
A message from Bob Holton, Chairman
I am pleased to advise that the club has received a letter from the Minister for Planning, the Honourable Stephan Knoll MP, confirming that the Morphettville Racecourse Development Plan Amendment (DPA) has been formally approved.
The amendment means the land owned by the SAJC between the racetrack and Anzac Highway is now re-zoned as Urban Core Zone and paves the way for the club to go to the next stage in unlocking the value of our Morphettville site as part of our Concept Master Plan.
Under the guidance of our CEO Grant Mayer and development consultant David Sinclair, we will now start an informal engagement process with the development market to seek feedback from companies interested in participating with the SAJC in the development of the club's land.
That will then lead to a formal expression of interest process which will ultimately shape what the eventual redevelopment will look like, how it will be delivered and, importantly, what returns the club will ultimately realise.
This re-zoning is a great result for our club and would not have been possible without an enormous amount of hard work over the past five years.
October 2019
Background
David Sinclair brings his expertise after having negotiated a rigorous process to find a suitable development partner and secured all the necessary approvals and due diligence for the Moonee Valley project.  David has now commenced working at Morphettville to drive the next stage of the SAJC's masterplan for its site. While not on the same scale as its Victorian counterpart, David says the potential for Morphettville is "significant".
"Redevelopments like Moonee Valley show that if you can get a project to work on both a community and a club level, it can be special," he said. "The economic and social benefits from a carefully masterplanned development can be substantial, with the ultimate aim of improving the club's assets and underpinning its viability."
Working at the SAJC 2-3 days a week, David has been tasked with taking the project to a point where the club can make a balanced decision about the model that best suits the club, its members and the site.
"The club has done important work in terms of the initial designs, starting the Development Plan Amendment process and conducting the community consultation around those original ideas," David said.
"Now we are holding workshops with urban designers and architects who will be important in taking us to a concept masterplan design stage that will help us better understand potential costs and benefits.
"We're also commissioning the next round of necessary surveys and reports and expect to be commencing market soundings early next year to assess  developer interest.
"This process will help the club decide what its best option is – for example, whether it partners with a developer for the whole project or takes a staged approach in a series of joint venture agreements.
"It's an exciting opportunity, but one that requires a methodical, strategic and time-consuming approach."
Michael Browell will be present to inform members of the process they have taken at Moonee Valley. In 2009, Michael had a vision for a new Moonee Valley.  Over the past eleven years, this vision has continued to be refined and the Club has now embarked on this exciting transformation which will see the Moonee Valley Racecourse become a world-class racing, residential, commercial and lifestyle precinct.
Racing is core to the activities at the MVRC, and under Michael's stewardship, the Club launched a two-day Cox Plate Carnival and has continued to invest in the night racing product.  The Valley of Tomorrow project will see Moonee Valley become the best night racing venue in the world.
Cox Architects have been involved in some of the key sports architecture, residential, transportation and urban design projects in Adelaide including the recent Adelaide Oval redevelopment, Bodyline Bar and Karen Rolton Oval. Cox have also developed a strategic master plan for Doomben and BRC at Eagle Farm and carried out masterplanning for the Australian Turf Club. Cox have been appointed to provide a concept design for the Morphettville Masterplan for consideration by members.
July 2019
The "Master Plan" for Morphettville is progressing well with completion of the rezoning phase expected with the finalisation of the Precinct Development Agreement (PDA) expected in the coming months. The signing of the Traffic Infrastructure Deed and Land Management Agreement will facilitate the issue of the PDA by Government.
The certainty that comes with the issue of the PDA will allow the SAJC to progress the "Master Plan" to a stage where we can more accurately determine the selection of a preferred project delivery strategy for the Club. The development work that is currently being undertaken will provide the necessary guidance on the programming, financial feasibility and risk assessment that is associated with long-term major projects.
Integration with the community and the unlocking of economic benefits to all key stakeholders remain as key factors in the progression of a successful outcome and future for the Club.
September 2017
The SAJC has been working on a 'Master Plan' for Morphettville for a number of years now, to allow the Club to transform some of the underutilised areas of our property. Our club has had a proud history at Morphettville, with our first meet being held in 1876 and we are excited to be embarking on the next chapter of our history.
As part of this process, we are seeking approval from the Government to allow the Club to re-zone this land so that it can be developed into a vibrant residential, retail and community facility, creating economic stimulus for the area – whilst still allowing us to do what we love…racing. We've come up with a concept which shows one interpretation of what this development might look like and the next step in this process of the Development Plan Amendment is allowing members, stakeholders and the nearby community to have their say.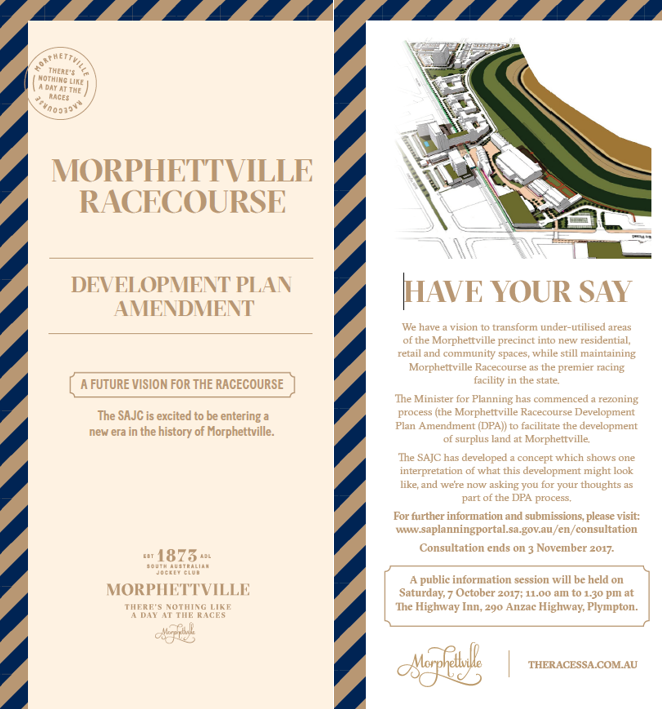 August 2013
The SAJC has formed a Master Plan Committee to deliver an assessment of surplus land around the Morphettville precinct and consider potential future uses for this land that will complement events at South Australia's premier racing centre.
The assessment process will identify possible development opportunities and establish a strategy that will improve the existing facilities at Morphettville. Importantly, it will ensure every asset under SAJC ownership is being utilised in the best interests of the Club and its members.
There is a broader context for the work to be conducted by the Master Plan committee. This includes the State Government's 30 Year Plan for Greater Adelaide, ongoing town planning requirements and the SAJC's continued compatibility with neighbouring precincts.
Preliminary investigations have commenced and an interim report will be presented to the SAJC Board later this year that addresses high level development opportunities, an urban economic analysis and a recommended strategy that achieves objectives in the best interests of members.