History
The South Australian Jockey Club celebrates a rich and proud history here at Morphettville. We are currently working to curate our historical pieces and memorabilia here on course. If you are interested in being involved or you have a piece you'd like to donate to the club please contact us.
1838 - 1899
1838
Turf Club of South Australia formed.
1840
Club folds but racing continues.
1846
Eastern Parklands meeting held (now Victoria Park).
1851
Race meeting held at Glenelg on likely site of Morphettville. South Australian Jockey Club (1) formed.
1856
St. Leger Stakes founded won by "Touchstone".
1855
New SAJC (2) formed.
1860
The first South Australian Derby was run at Thebarton and won by "Midnight".
1861
Leading British stallion "Fisherman" imported by Mr Fisher. SAJC (3) formed to become the administrators and controllers of racing in SA.
1864
The inaugural running of the Adelaide Cup. It was run on the racecourse at Thebarton, and was worth 500 guineas. It was won by Mr. CA Dowling's horse "Falcon".
1866
Cowra, sired by Falcon wins first of consecutive Adelaide Cups.
1869
Thebarton racecourse closed. Duke of Edinburgh visits Eastern Parklands course.
1871
Eastern Parklands to be known as Victoria Park.
1873
The South Australian Jockey Club (4) formed under the chairmanship of Sir John Morphett.
1875
First meeting held at Morphettville on 3rd September. The first race won by "Red Gauntlet" owned by Honourable Thomas Elder, who had been a prime mover in the establishment of the course.
1879
Totalisator betting introduced to Adelaide. Queen's Birthday Cup (now known as the Birthday Cup) was first run as a Stakes Race and won by Australian Cup and AJC Derby winner Richmond.
1881
Prince Albert and Prince George visit Morphettville. D.O.D. wins the first running of the Goodwood Handicap.
1884
Malua, a great racehorse of his time won the Adelaide Cup.
1885
Government bans all forms of gambling with the Totalisator Repeal Act. The Adelaide Cup ran at Flemington as the SAJC had already taken entries for the event which was won by Mr. E Ellis's "Lord Wilton". Racing was abandoned for four years.
1888
Adelaide Racing Club formed to control Victoria Park.
1889
The Club acquire title rights to own the racecourse and 160 acres of land at Morphettville. The same year totalisator betting is re-introduced. The first Adelaide Cup since 1885 is held and is won by "The Lawyer".
1890
Port Adelaide Racing Club formed.
1900 - 1999
1900
85 registered colours and 121 licensed jockeys.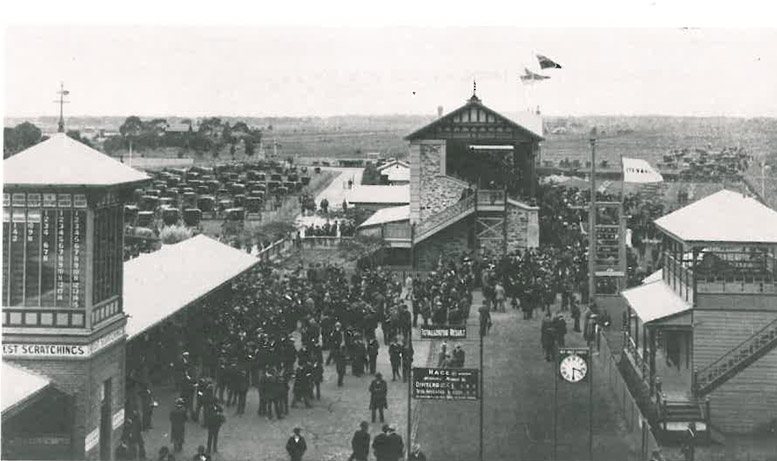 1911
Eye Glass wins the first of two Adelaide Cups.
1916
Military forces camped at Morphettville, so race meetings were transferred to Victoria Park.

1920
Duke of Windsor visits Victoria Park.
1921
"The Julius" totalisator installed. A new brick totalisator building was erected.
1925
Members stand built.
1927
School for apprentice jockeys started. Duke and Duchess of York visit Morphettville. They admire the great horse "Manfred" who was paraded on the course.

1929
The depression reduces attendances. Radio broadcasts introduced.
1930
"Phar Lap" wins first running of Kings Cup at Morphettville.
1933
Betting Control Board licences bookmakers to operate on racecourses and off track betting shops.
1937
Middle grass training track first used.
1940
Fire: One of the Derby stands destroyed.
1942
345 bookmakers registered. March 1st marked a wartime ban on racing.
1950
Peerless Fox wins the first of consecutive Adelaide Cups.
1951
Photo finish camera introduced. Used in the Adelaide Cup to separate a desperately close finish. "Gay Comedy" wins the first SA Oaks. Highest ever Cup attendance – 50,000 people to watch "Peerless Fox".
1954
Queen Elizabeth II and Duke of Edinburgh visit Morphettville.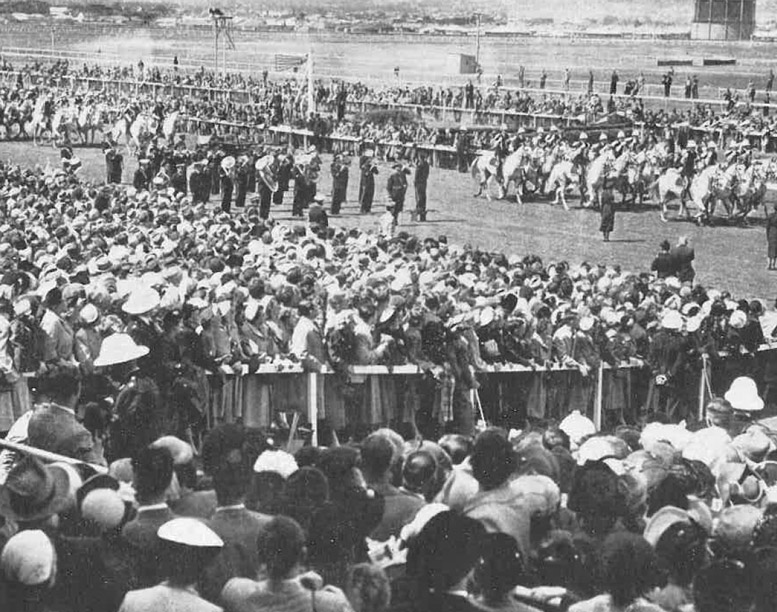 1955
Starting Stalls introduced.
1958
Quinella introduced.
1961
The great "Tulloch" wins the S.J.Pullman Stakes at Cheltenham.
1963
"Sometime" finishes second in the Adelaide Cup for the second time (never to win).
1967
TAB commences operating in SA.
1968
The great "Rain Lover" wins the Adelaide Cup. "Debhel Boy" and "Artic Coast" finish second and third for the second time.
1970
Aluminium running rail first used at Morphettville.
The Adelaide Cup was run as the Centenary Cup and was granted a Public holiday for the first time. "Tavel" won, the first of his two Cups, the other came in 1973.
1972
Twilight meeting held at Morphettville to coincide with Perth Cup.
1975
1st July, all three Adelaide racing clubs amalgamate to form the SAJC.
Racing is telecast from Morphettville.
1979
Fire: Members stand destroyed. Many irreplaceable records and photos destroyed. All racing transferred to Cheltenham and Victoria Park. New Zealand female jockey, Linda Jones is first woman to ride in Adelaide Cup on board Northfleet, trained by her husband, Alan.
1980
Adelaide Cup run at Victoria Park because of facilities renovation as Morphettville.
1981
New members stand at Morphettville opened.
1982
First Australasian Oaks is won by Rose of "Kingston".
1985
Formula 1 motor car racing was introduced with the inclusion of Victoria Park in the Grand Prix circuit.
1987
The introduction of Sky Channel TV.
1989
"Lord Reims" wins a record third Adelaide Cup.
1994
"Our Pompeii" wins second Adelaide Cup.
1997
"Octagonal" paraded at Morphettville.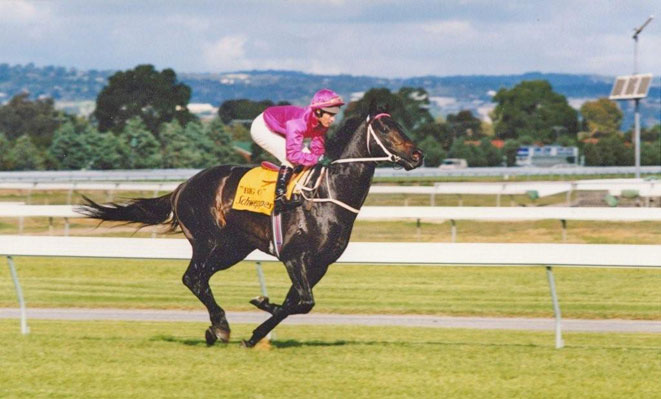 "Octagonal" ridden by Darren Beadman. Photo provided by Rob Sweeney.
1998
South Australian Thoroughbred Racing Authority (SATRA) takeover the control of racing in South Australia.
1998
Fire: Derby Stand at Victoria Park destroyed in fire.
1999
"Episode" trained by David Hall wins the 3 year old fillies Triple Crown. SATRA leave Morphettville for offices in the City.
2000 - current
2000
SATRA return to Morphettville and are re-named Thoroughbred Racing SA (TRSA) after the industry is corporatised. Following excessive rain Adelaide Cup day is abandoned, and the meeting is re-scheduled at Victoria Park. "Bohemiath" wins.

2001
The Government agree to sell the TAB. The SAJC undertake major redevelopments to the grandstand and course. The inaugural running of the $400,000 Magic Millions Classic – the State's richest race. Won by locally owned, "Barossa Broadway".
2002
The Morphettville Grandstand is re-developed at a cost of $2 million. Morphettville track undergoes complete re-development, the first since its construction. The cost is $4 million. Wetlands are created in the middle of the track.
2003
New artificial training surface, 'Proride' is installed at Morphettville.
2005
In an Australian racing first, South Australia's premier thoroughbred racing track, Morphettville Racecourse, is renamed 'Allan Scott Park Morphettville' for a five year term, following the generous sponsorship from Scott Group of Companies.
2007
The last ever race meeting at Victoria Park, December
2009
The last ever race meeting at Cheltenham Park Racecourse was held in February.
Due to the movement of races from Victoria Park and Cheltenham Park to Morphettville, the SAJC required a first-class second surface to maintain the 65 race meetings now scheduled. $3.6 million was spent on the new inner track, which has a circumference of 2100 metres, is 25 meters in width and has a home straight 305 meters in length. The second track at Morphettville Racecourse opened, and the first race meeting on "The Parks" circuit at Morphettville was held on Wednesday 17th June.
The new Winning Post at Morphettville was also constructed, and its hydraulic operating system was the first Winning Post in the world with this development.
2011
After the conclusion of the sponsorship arrangement with Scott Group of Companies, Allan Scott Park returns to its original name of Morphettville Racecourse.
2012
"Black Caviar" makes history at Morphettville Racecourse on 28th April when she wins the Group 1 Sportingbet Classic (registered as the Robert Sangster Stakes), extending her unbeaten streak to 20 consecutive wins.
The Champion Mare cemented her place in the record books with her 21st consecutive win, in the Group 1 Distinctive Homes Goodwood at Morphettville Racecourse two weeks later, on 12th May.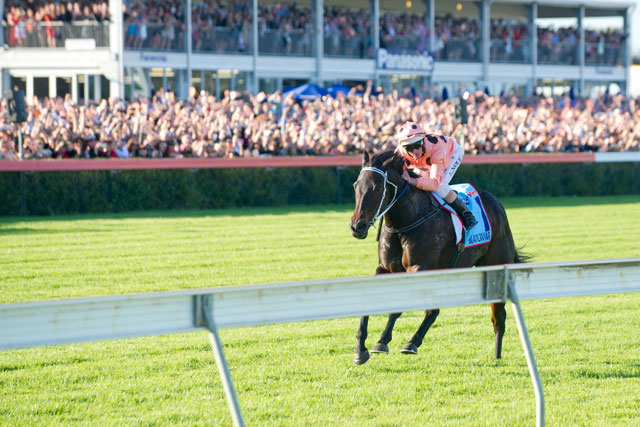 "Black Caviar" ridden by Luke Nolen . Photo courtesy of Sharon Chapman, Whole Package Photographics.
2013
The South Australian Jockey Club (SAJC) announces the introduction of a new logo for Morphettville. This new Morphettville logo is modern in its presentation, but has hints of nostalgia with the design inspiration driven from the historic SAJC gates, formerly from Cheltenham Racecourse, that are now a proud feature in the Mounting Yard at Morphettville.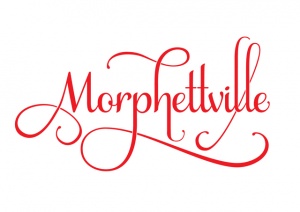 History Of Jockeys In SA
As well as producing champion horses such as Tobin Bronze, Comic Court, Rain Lover, Pago Pago, Dulcify and Light Fingers, South Australia has also witnessed some of the sport's finest ever jockeys ply their trade.